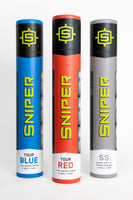 The Sniper Brand is building a reputation of quality and innovation behind all the products we offer.
Our Tour Series golf balls are designed to best maximize performance by allowing players to align their swing speeds with the correct compression to produce the best results. Our golf balls outperform top brands in testing and on course play and are taking the industry by storm.
We also have always been frustrated with traditional golf ball box and sleeve packaging, so we introduced our patent pending tube packaging to solve that problem! Our packaging saves valuable bag space, eliminates the disposing of empty ball sleeves, and more importantly gives our players some "swagger" on the course.
Our Tour Glove is made using the highest quality leather available giving a fantastic feel on every shot. No corners were cut to ensure the glove we released to the market stood up to the same high standards as our golf balls.
The combination of these two products allow all our players to have the best chance for success each and every time they walk on the course!


Testimonials
I just love them..soft feel and durability!!

Mark N.
Ball is quite good. I am very impressed with how it spins and launches. Good consistent ball flight.

Brett C.
The Sniper F-20DR golf ball has changed my game by providing me better control and distance around the course!

Josh L.
Proudly supporting our Military and First Responders